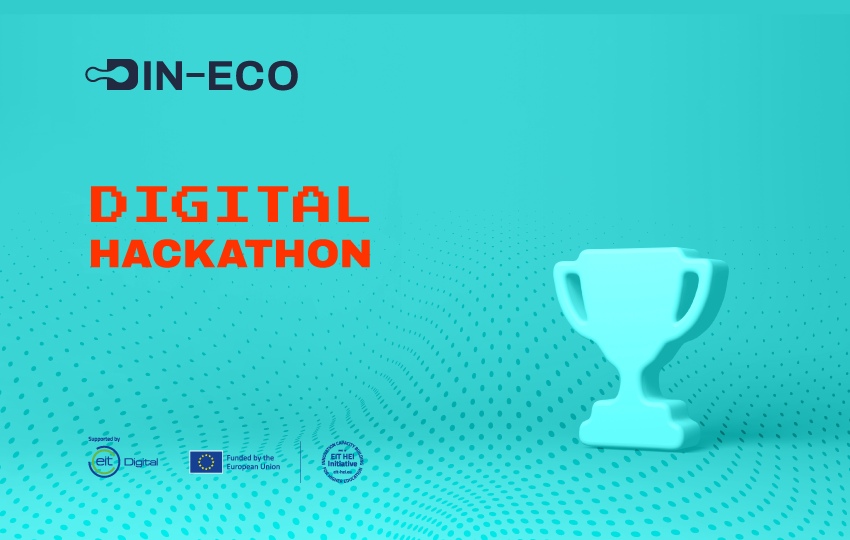 DIN-ECO Project is in the quest for the future pioneers, change makers and inventors who will revolutionise the fields of Digital Technologies, Digital Health and Digital Manufacturing.
About the Competition
The DIN-ECO Innovation Competition is a student competition running in Denmark, Greece, Italy, Poland, Serbia, and Turkey to bring together students from different disciplines and identify and support innovative business solutions in the fields of Digital Technologies, Digital Health, and Digital Manufacturing.
Participating in the competition, you will have the opportunity to unfold your creativity and entrepreneurial spirit, learn the foundations of entrepreneurship and innovation, connect with students, business professionals and academics across Europe and prepare to start your entrepreneurial journey.
Competition Structure
The DIN-ECO Innovation Competition consists of 4 steps:
Step 1: Submission of business ideas:
Students working in groups (2-5 persons approximately) are asked to submit their business idea in one of the Competition fields. All you have to do is present your business idea in the most attractive way, focusing on the needs/challenges you are trying to solve, the innovation capacity and feasibility of your idea.
When preparing your business idea proposal, consider the following evaluation aspects:
Relevance: Is the solution in line with the competition fields?
Innovation: Is the solution innovative, addressing an actual and pressing problem? What differentiates it from existing solutions?
Impact: does the solution brings value to the target group chosen, the industry and society at large
Feasibility: Is the solution technologically and operationally feasible? Is it financially feasible? Does it demand a lot of resources and dependencies?
Viability: Can the business solution and model be sustainable? Can it achieve high growth rates: and profitability? What is its potential for growth and expansion of the project in the target market
Team composition: What are the skills of the team? Is the team multidisciplinary and does it have complementary skills?
Presentation & Pitch: How clear is your pitch? Can you persuasively present your business idea?
Step 2: Evaluation of business ideas:
Participating teams will be evaluated from an Evaluation Board consisting of academics and business professionals against a specific set of evaluation criteria and the 30 best business ideas will enter the second phase of the competition and will compete in the DIN-ECO Hackathon.
Step 3: Mentoring and pitching preparation :
Once selected, the 30 finalist teams will have the opportunity to receive mentoring and support and adapt their business proposals to real case studies. They will have the opportunity to shape and fine-tune their business idea and prepare their pitching presentation.
Step 4: DIN-ECO Hackathon:
The 30 finalist teams will take part in a one-day online Hackathon during which they will have the opportunity to pitch their business idea in front of the Jury Committee. The Jury Committee will evaluate and award the best business project for each domain, plus an additional mention of the best innovative business idea.
Why apply
Participation in the DIN-ECO hackathon will be a unique opportunity to present your business idea at a pan-European event where you can practise your pitching skills, gain visibility and validation from members of the business community and innovation experts and engage in networking activities.
The best teams will receive mentoring and consulting from experienced professionals to enhance their entrepreneurial mindset and skills further, familiarise themselves with the concept of innovation, and receive guidance in innovation exploitation.
Prize
The three best teams will have the opportunity to participate in training activities organised by the DIN-ECO consortium during 2024.
Competition Fields
The DIN-ECO Competition focuses on three fields. Specifically, the focus areas can be defined as follows.
Digital Technologies
In the era of digital transformation and disruption, emerging technologies are the core enablers of developing new products, services and processes that can improve our everyday lives. Therefore, this vertical focuses on digital solutions that utilize modern and advanced digital technologies, like cloud computing, artificial intelligence, machine learning, Big Data, AR/VR, Internet of Things, etc, in a novel way that produces value for the end-users.
Digital Health
The Digital Health vertical focuses on products and services that can transform the healthcare industry, enhance and optimise research and development, drug discovery and clinical trials, improve and personalise healthcare delivery and the treatment experience, support disease prevention, and promote health literacy and awareness.
Digital Manufacturing
Proposals in the Digital Manufacturing field can include innovative solutions in product development and quality, industrial automation, production and maintenance optimization, manufacturing operations, production lines performance, supply chain visibility, efficiency, safety and environmental sustainability.
Please note that you are asked to submit innovative ideas related to those themes only. You will receive a bunch of three different possible case studies related to it.
Who can participate
Eligible to participate in the DIN-ECO Competition are teams of young individuals who are currently studying at a Higher Education Institution in Denmark, Greece, Italy, Poland, Serbia, and Turkey at undergraduate or postgraduate level, and they have a business idea in the vertical of Digital Technologies, Digital Health or Digital Manufacturing.
Students can apply only as a team.
Key dates
Proposals submission deadline: 22 November at midnight.
Communication of selected teams to enter the DIN-ECO Hackathon: 27 November
Mentoring and pitching preparation: 28 November to 14 December
DIN-ECO Hackathon: 19 December
Don't miss the opportunity to become part of a pan-European initiative and harness your entrepreneurial skills! Apply now here!