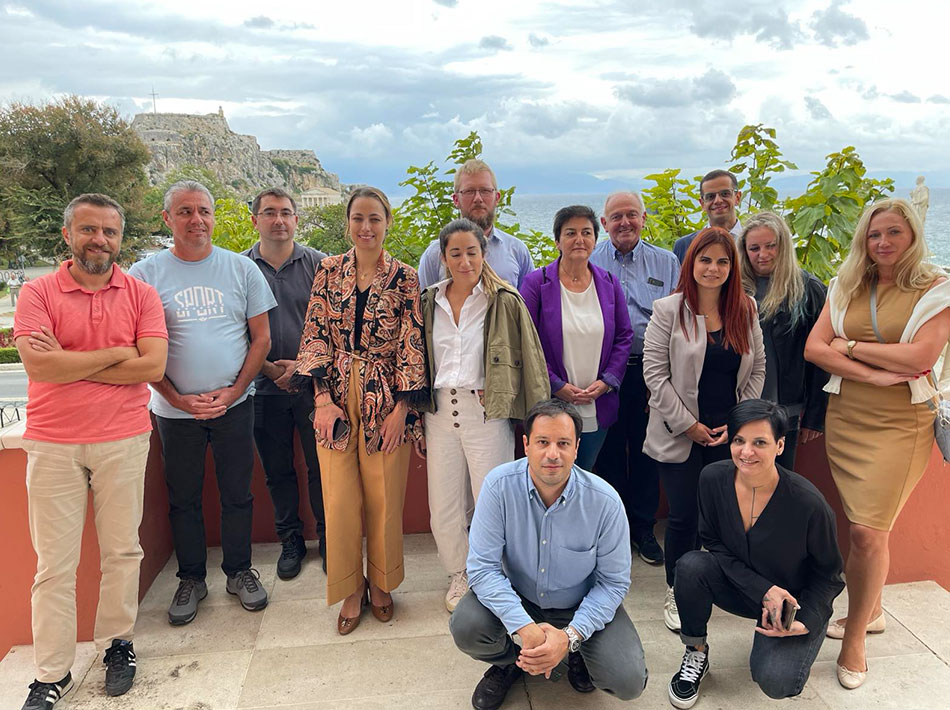 The kick-off meeting of the DIN-ECO research project (Boosting Digital Innovation & Transformation Capacity of HEIs in an Entrepreneurial Ecosystem), with Scientific Coordinator Prof. Adamantia Pateli from the Department of Informatics of the Ionian University, was held on September 26 at the Ionian Academy, Corfu. The meeting was attended by representatives of cooperating institutions from Denmark, Italy, Cyprus, Poland, Serbia, as well as Greece. The DIN-ECO project will support the implementation of Digital Innovation Vision Action Plans (DIVAPs) developed by Higher Education Institutes of the consortium and will focus on:
improving student support offices for advice on entrepreneurship and innovation,
establishing or improving Higher Education Institutes (HEIs) technology transfer offices and fostering technology transfer partnerships,
promoting cooperation with the European Institute of Innovation and Technology and Knowledge and Innovation Communities (principally with EIT Digital partners)
establishing structures and conditions for innovation-oriented research,
provision of consulting services and development of a digital mentoring platform to enable the connection of students with the ecosystem of digital innovation,
developing new and improving existing innovation and entrepreneurship curricula,
evaluation of teaching and learning practices with the aid of digital assessment tools.
The overall objective of the project is to increase the innovation and entrepreneurial capacity of the participating HEIs and enable their integration into valuable European innovation chains and ecosystems.
The project partners are: Ionian University (lead partner – Greece), Warsaw University of Life Sciences (Poland), Mugla Sitki Kocman Unversity (Turkey), Found.ation Maker's Place Provate Company (Greece), Universita degli Studi di Parma (Italy), A.B. Institute of entrepreneurship development LTD (Cyprus), University of Nis (Serbia), Aalborg University (Denmark), Fondazione Fenice Onlus (Italy).
More information about the project can be found on the websites: https://din-eco.eu/ & https://eit-hei.eu/projects/din-eco/