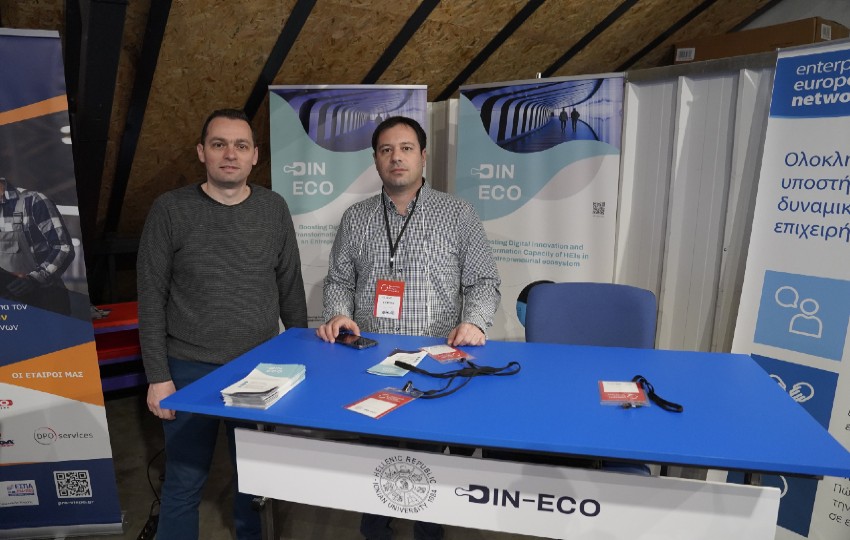 In February 2023, the DIN-ECO project had the opportunity to showcase its progress and goals at the Innovent Forum, an exhibition of innovation and technology held at JOIST Innovation Park. As the coordinator of the DIN-ECO project, Ionian University was proud to promote the project achievements of Phase 1 and the aspirations for Phase 2 to attendees, including startups, research institutions, public bodies, and venture capitals.
The Innovent Forum was an excellent opportunity for the DIN-ECO team to connect with potential partners and build the necessary networks to ensure success in the project's next phase. The contacts established during the event will be a foundation for the partnerships needed to achieve the project's ambitious goals.
DIN-ECO supports the implementation of Digital Innovation Action Plans (DIVAPS) of the Higher Education institutions of the consortium. Through the DIVAPs, the innovation and entrepreneurial capacity of the participating HEIs will be increased, enabling their integration into European innovation value chains and ecosystems.
Through its participation in the Innovent Forum, the DIN-ECO project raised awareness of its mission and engaged with key players. The project's vision aligns perfectly with the growing interest in digital innovations and social responsibility.
If you are interested in learning more about the DIN-ECO project and its goals, visit the website at din-eco.eu or eit-hei.eu/projects/din-eco. The project team is always happy to connect with potential partners, collaborators, or anyone interested in highlighting the value of innovation-driven research in developing ventures that serve social and industry needs.
DIN-ECO is proud to have been a part of the Innovent Forum and is excited to continue making strides towards a more digital future for businesses.