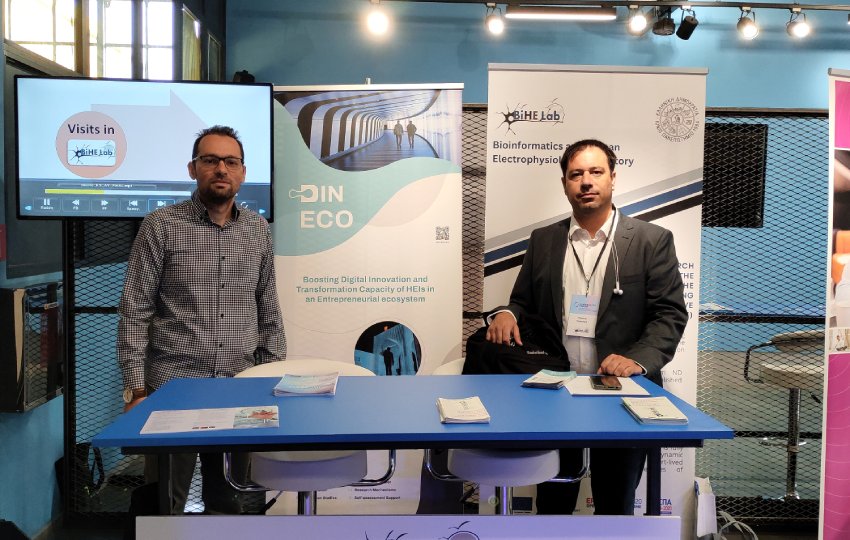 Digital Health Takes Center Stage at InnoHealth Forum 2023 as DIN-ECO Project Showcases Achievements and Future Plans
DIN-ECO project actively participated at the first InnoHealth Forum held on 22-23 September 2023 at JOIST Innovation Park in Larissa. This event, hosted by JOIST and the European Digital Innovation Hub – Health Hub, was the first gathering of digital health leaders, innovators, and enthusiasts. It serves as a platform for stakeholders to discuss, collaborate, and shape the eHealth trends and innovations that will define the future of healthcare.
Digital Health, the primary focus of InnoHealth Forum, aligns perfectly with the objectives of DIN-ECO. Recognizing the immense potential and transformative power of digital health solutions, DIN-ECO has earmarked this sector as a key target for its ongoing and future initiatives.
The two-day event saw the DIN-ECO project coordinator from the Ionian University, in collaboration with the AB Institute of Entrepreneurship Development, showcasing the significant results achieved by the project so far. The presentation highlighted the project's milestones, its impact on the digital health landscape, and the ambitious plans charted out for the upcoming period.
The forum provided an excellent opportunity for the DIN-ECO team to engage with a diverse audience, including startups, research institutions, and capital providers. The interactions fostered a deeper understanding of the project's vision, its contributions to the digital health sector, and the potential collaborations that can drive further innovations.
For more details about the DIN-ECO project, its achievements, and future plans, please visit our official websites: DIN-ECO and EIT-HEI Projects.
About DIN-ECO
DIN-ECO is an innovative project aimed at creating links between digital innovation and research in the health and manufacturing industries, highlighting the value of innovation-driven research in developing ventures that serve social and industry needs. With a vision to transform healthcare through technology, the project is making significant strides in promoting digital health innovations and best practices.