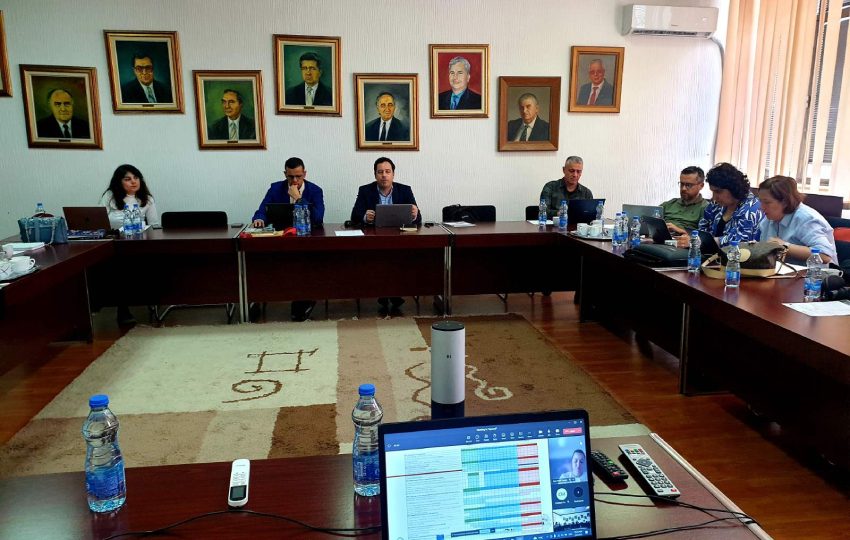 June was a busy month for the DIN-ECO project and its partners. On Friday, 9 June 2023, DIN-ECO hosted a public event titled "From an Innovative Idea to a Startup", which served as a unique platform for aspiring entrepreneurs to delve into the realms of startups, innovation, and technology, leaving attendees inspired and equipped to embark on their entrepreneurial journeys. This public event hosted by our partners at the University of Niš proved to be a great success.
To learn more about the "From an Innovative Idea to a Startup" event, you can see more in our blog:
Boosting Digital Innovation and Transformation Capacity in Entrepreneurial Ecosystems: DIN-ECO Meeting Highlights
On June 8th, 2023, the 3rd meeting of DIN-ECO, an ambitious project aimed at enhancing the digital innovation and transformation capacity of Higher Education Institutions (HEIs) in an entrepreneurial ecosystem, took place at the Faculty of Mechanical Engineering, University of Nis, Serbia.
Welcome and Project Progress
The meeting began with a warm welcome from Nikola Vitkovic, Associate Professor at the Faculty of Mechanical Engineering, University of Nis. Participants from various HEIs joined physically and online. The Project Coordinator, Professor Ada Pateli from Ionian University, addressed the withdrawal of the University of Parma from the consortium, emphasizing the need to find a suitable replacement. Assistant Professor Naoum Mylonas was actively pursuing potential partnerships with other universities.
Project Management and Reallocation
Associate Professor Themis Exarchos presented a Gantt chart outlining the project's progress and tasks for Phases 2a and 2b. Due to the University of Parma's exit, tasks were reallocated among the remaining partners. The need to achieve Key Performance Indicators (KPIs) and timely completion of tasks were emphasized. Monthly WP Meetings were scheduled to ensure efficient collaboration and reporting.
Student Support Offices on Entrepreneurship and Innovation
Elena Bortolotti from Fenice discussed the progress of student support offices, competitions, and seminars. The consortium agreed to organize a hackathon on digital innovation in November/December 2023. All partners were urged to contribute to these events.
Technology Transfer and Innovation-Driven Research
Christian Mai from Aalborg University (online) discussed reallocation issues that would be further discussed in the upcoming virtual meeting. Decisions on new WP leaders and deliverables were pending.
Promotion of Collaboration with EIT KICs
Professor Ada Pateli initiated discussions on mentoring networks and the digital platform for collaboration with EIT Knowledge and Innovation Communities (KICs). All partners were requested to fill in mentoring network templates, and FOUND.ATION promised to present the digital platform by the end of June 2023.
Education and Training on Innovation and Entrepreneurship
Dr. Michal Borowy from SGGW presented the training needs assessment, and partners discussed workshop implementation. A cycle of seminars was scheduled for October-November 2023. Additionally, the digital badge implementation plan was discussed.
Digital Assessment and Policy Implications
Dr. Georgios Giotis from Ionian University discussed the assessment of teaching and learning practices using a questionnaire-based system. Partners were urged to translate and submit questionnaires by June 15, and IU would finalize the assessment process by July 1.
Communication and Dissemination
Thomas Chalatsis from A.B. IED highlighted the project's dissemination activities, including the website, social media, and publicity events. The consortium was encouraged to engage students on social media and promote the project on their websites.

The meeting concluded with a light lunch, fostering networking among participants. The DIN-ECO project aims to drive digital innovation and transformation, fostering a dynamic entrepreneurial ecosystem among HEIs. As we progress through the project, the consortium remains committed to achieving its goals, adapting to challenges, and ensuring the success of Phase 2. Stay tuned for more exciting developments from DIN-ECO!